SPG Packaging Systems GmbH

Anschrift
SPG Packaging Systems GmbH
Westring 13

40721

Hilden

Telefonnr.:

02103-96067-0

Telefaxnr.:

02103-96067-500

E-Mail:

info@sigpse.com

Webseite:

www.sigpse.com
Information
We develop, produce and market consumables and equipment throughout Europe and are proud of our well recognized brands Signode, Strapex, Orgapack, Böhl, GloboPlastt, Kihlberg and Mezger.
Our strapping product range includes hand tools and standard machines for plastic and steel strapping, PP and PET strap, steel strap, seals and installations that meet high volume, in-line, high speed packaging requirements of specific industries.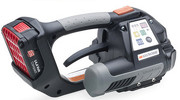 The stapling range of products includes staples and stapling hand tools, stapling heads and automatic machines with specific unique staples as a system, for jointing, securing, closing and other purposes.

Our number one job here always has been putting the needs of the customer first by delivering products and services that you appreciate and trust. Under our new ownership and leadership, you will see positive changes. We plan to make our organization even stronger because we'll have the necessary scope, scale and capacity to support customer service, product development as well as our plans for growth and innovation.